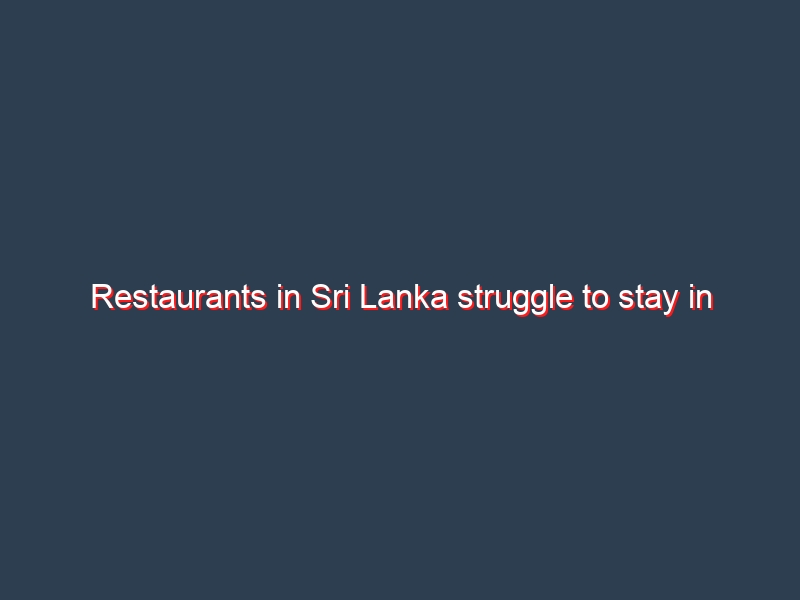 ECONOMYNEXT – Sri Lanka is once again facing a gas shortage as yet another consequence of the foreign exchange crisis in the country, leading canteen and restaurant chains to withdraw from businesses until new supplies come.
Due to the ongoing forex crisis, all sectors in the economy, mainly import businesses have been badly affected.
Despite finally floating the dollar, Sri Lanka is continuing to see shortages in all types of fuel while daily power cuts continue since February 15 with occasional exceptions.
With commercial banks refusing to open letters of credit (LCs) for essential products such as medicines, industry leaders said, Sri Lanka may continue to see shortages in the coming days.
Meanwhile, the government also gazetted 367 non-essential goods whose imports is to be restricted.
With both Litro, the state owned LP gas provider, and Laugfs Gas Pvt Ltd limiting cooking gas supply to the market, media reports showed many restaurants and canteens struggling to serve fastfood and other meals, especially in densely populated commercial areas.
"We have limited the amount of food we produce in a day to save gas until supply to the market resumes," a restaurant owner in Kollupitiya told EconomyNext.
"Earlier we had a similar issue due to explosions happening around the country, and now we are facing a shortage again because the country can't buy [gas]."
Another restaurant owner said his business is trying to get to the breakeven point to cover the costs of production and continue the business with minimum profit.
"Due to COVID-19 fears, people ate less at our restaurant than they did pre-pandemic times. Before that there were there [2019 Easter bombings], and now this. We are trying to continue the business hoping it would turn around," he said.
Laugfs Gas, the private LP gas supplier in the duopoly market, said there is only a little stock left as of March 03.
"We will see a serious shortage. We have very little stock, only sufficient for one or two days in the port," W K H Wegapitya, Laugfs' Chairman, told Economynext last week.
Laugfs Gas controls around 20 percent of the LP gas market in Sri Lanka while the state owned Litro supplies 80 percent.
Laugfs needs on average 15-30 million US dollars per month to import gas, Wegapitya said.
"We have been supplying around 15,000 tons to the market per month but with this forex issue we are finding it difficult to continue the supply, especially with commercial banks not opening LCs for us to import gas," he said.
Sri Lanka Port Authority officials told EconomyNext that two LP gas ships were directed to Muthurajawela gas terminal to start unloading. However, most LP gas dealers in the country have not received gas that has been requested from the suppliers so far. (Colombo/Mar10/2022)