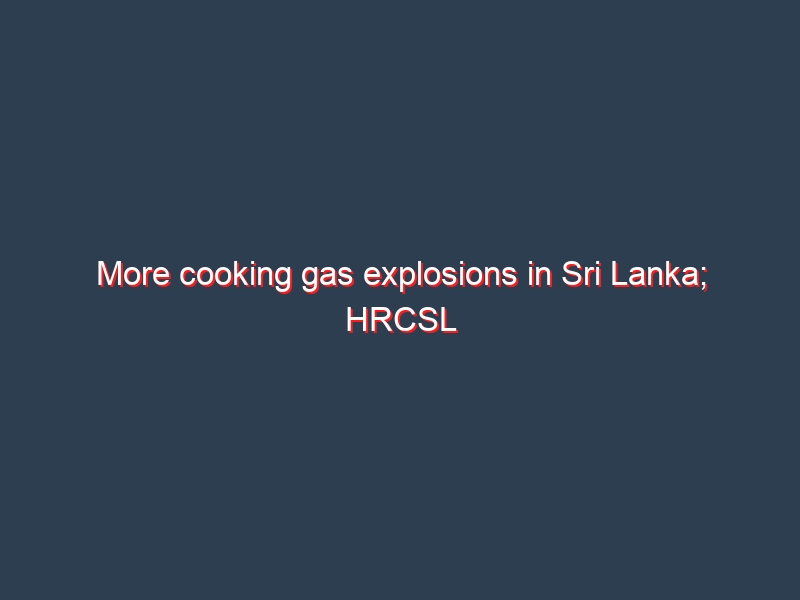 ECONOMYNEXT – Six incidents of cooking gas explosions and leakages were reported in Sri Lanka on Thursday (09), including a leak in a cylinder sold by Laugfs Gas PLC, as the country's  Human Rights Commission invited stakeholders for a discussion.
The latest in a series of explosions and fires attributed to liquid petroleum (LP) gas sold by the state-owned Litro gas company were reported on Thursday in Kandy, Gampola, Alawathugoda, Ginigathhena, Ambagamuwa, Nawalpitiya and Veyangoda areas. The Gampola explosion had occurred in a food stall at a local bus stand, reports said.
Laugfs and Litro hold a duopoly in cooking gas in Sri Lanka.
A recent presidential probe concluded that substandard accessories such as hoses and regulators as well as the absence of odour were largely to blame for the explosions.
Related: Sri Lanka gas explosion probe says blame lies largely with faulty accessories
Reports also said a cylinder issued by the privately owned Laugfs gas at a private residence had also started to leak on Wednesday (08) when the homeowners had tried to use it for cooking. The cylinder had been purchased three months ago, well before the recent spate of incidents.
"The cylinder started to leak yesterday, so we switched [the cooker] off. This morning, I removed the regulator and gas started to leak from the cylinder's valve," a member of the household said.
Meanwhile, the Human Rights Commission of Sri Lanka (HRCSL) has called the Consumer Affairs Authority, the Sri Lanka Standards Institute and the State Ministry of Cooperative Services, Marketing Development and Consumer Protection for a discussion regarding two complaints lodged by the Young Journalists' Association regarding the incidents.
The Association has complained to the council that the gas companies should display on their cylinders the date of manufacture (filling) and the ingredients (a breakdown of the gases contained), similar to any other consumer good.
Human Rights Commissioner Nimal Karunasiri said the gas companies have also been invited to the discussion.
"We called this discussion to see whether the quality of the product can be assured, if not why that is, and see whether the consumer is being protected," Karunasiri told reporters on Thursday (09).
Since the issue with gas cylinders is a matter of urgency, the HRCSL will submit a report in two weeks, he said (Colombo/Dec09/2021)