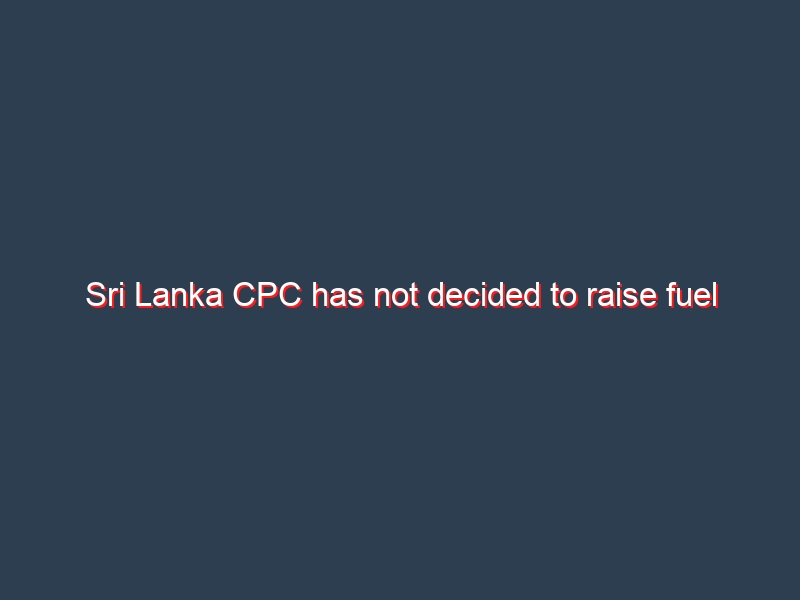 ECONOMYNEXT – Sri Lanka's state-owned Ceylon Petroleum Corporation has not decided to raise fuel prices yet, a government official said on Thursday, amid an increasing loss as motorists shun Lanka IOC due to expensive prices.
"At the current prices, we are incurring losses. But there is no decision yet to increase the prices to match with LIOC," an Energy Ministry official told Economy Next asking not to be named.
Lanka IOC, Sri Lanka's Indian Oil Corporation unit on February 26 raised petrol by 20 rupees a litre to a record 204 rupees and diesel by 15 rupees to 139 rupees. The price hike came amid a rise in global prices.
Sri Lanka's state-owned Ceylon Petroleum Corporation (CPC) still maintains the per litre petrol price at 177 rupees while diesel at 121 rupees. As a result, many motorists turn to CPC despite huge queues amid fuel shortage across the country.
The CPC is facing a risk of heavy loss as the world crude oil price have risen to an eight-year high of over 116 US dollars per barrel after the Russian bombing in Ukraine.
Energy Minister Udaya Gammanpila has sought either a price increase or reduction in taxes but the cabinet of ministers have not agreed to raise prices.
"It would be better if prices were increased and matched with Lanka IOC. It would decrease losses and cause less hassle," a CPC deal in Colombo told EconomyNext.
"With the dollar crisis in mind, free-market forces need to take over and let demand and price match,'' he added.
When prices are not raised and losses are financed with banks credit, which are in turn re-financed by the central bank through its 6.5 percent window, inflation goes up. The money printed to finance losses also creates forex shortages.
The dollar shortage has led to lack of fuel and extended power cuts, crippling many industries related to manufacturing and transport, disrupting the country's economic activities. (Colombo/Feb26/2022)