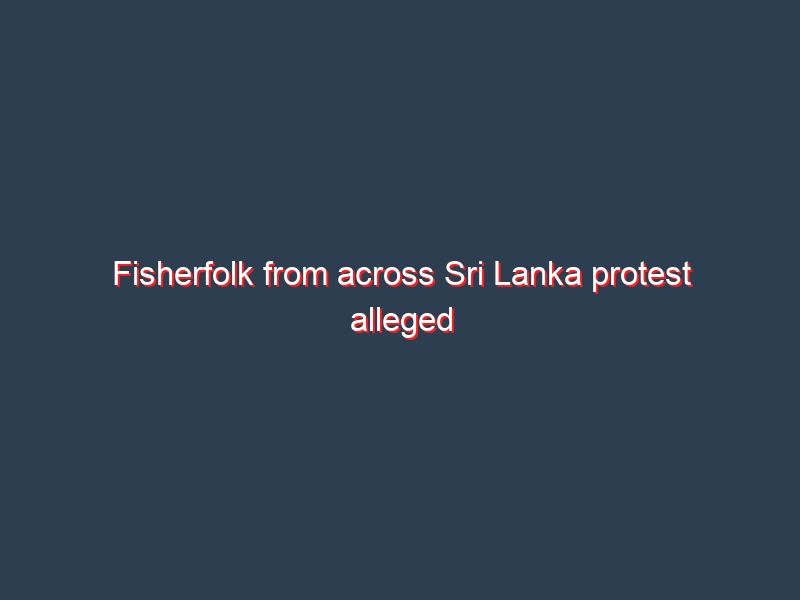 ECONOMYNEXT – Fisherfolk from across Sri Lanka stood in solidarity with their peers in the north on Thursday (23), protesting what they called illegal fishing by Indian nationals in Sri Lankan waters.
Fishermen from 18 districts took part in a protest held outside the Fort Railway Station and marched to the Lipton Circus nearby calling for an end to the alleged poaching and outlawed practices such as bottom-trawling.
The protest was organised by the National Fisheries Solidarity Movement.
T H Harrison (70), a fisherman from Dodanduwa, Galle, told EconomyNext that the repercussions of the Indian poaching are not limited to the island's northern waters.
"The situation in India is not only affecting the North. Fishermen in the south are suffering too. Fish migrate around the island, and when the Indians with their big boats come and take all the fish, there won't be any fish left for us," said Harrison.
Mackerel, squid and big-eyed scads were among the depleting types of fish, he said.
Northern fishermen have been complaining of Indian poaching for years now, with Sri Lankan authorities routinely making arrests of Indian fishermen and confiscating their boats and equipment.
Fishing vessels from South India had gotten into the habit of straying over the Indo-Lanka maritime border during Sri Lanka's 26-year civil war when Sri Lankan fishermen were banned from entering the Northern waters. Over a decade since the end of the war, boats from South India continue to frequently cross the Palk Strait, creating a sensitive diplomatic issue between the two South Asian countries.
Harris spoke to EconomyNext of the illegal fishing methods used by powerful merchants that put small scale fishermen in trouble.
"They use light-tackle fishing, which is illegal. There isn't enough fish to breed properly because these big fishermen come and catch them all."
Light force fishing, which is considered an illegal poaching method in Sri Lanka, is the process of submerging powerful lights underwater to attract fish to the surface to capture them into massive nets. Light force fishing is a major contributor to bycatch or the practice of throwing out unsuitable fish or unwanted breeds after they have been caught.
The large number of young fish captured in this manner depletes the gene pool and results in scarcity.
However, Captain De Silva, Media Spokesperson for the Sri Lankan Navy said, ''Light fishing is not the issue; it's bottom trawling by fishermen.''
Bottom trawling, a method practised by Indian fishermen is a method of fishing that uses large nets that are dragged across the seabed, capturing all fish in the vicinity, and ripping up the seabed.
Bottom trawling and overfishing by South Indian fishermen resulted in the depletion of marine resources in the Indian Ocean Territory, inducing the fishermen to travel to Sri Lankan waters for fish.
While this went on undisturbed during the Sri Lankan civil war, major disputes have been occurring since Northern Sri Lankan fishermen started going back to sea.
The Tamil National Alliance (TNA) has called for legal action. TNA parliamentarian M A Sumanthiran told EconomyNext that the crisis can be minimised if Sri Lankan authorities continue to arrest poachers.
According to Business Standard, an Indian Daily, 66 Indian fishermen who were poaching in Sri Lankan waters have been arrested in February and 10 trawlers have been seized by the Sri Lankan Navy.
On February 07, the Sri Lankan government auctioned off over a hundred boats that were seized by the Navy over the years.
In addition, alleged assaults of Indian fishermen by Sri Lankans have served to increase tensions.
With small boats that were unable to keep up with the massive trawlers from South India, many Northern fishermen have changed livelihoods to farm sea cucumbers instead, a delicacy in most of East and South-East Asia.
China, a large consumer of sea cucumbers, have been aiding these farmers in their efforts.
Sri Lanka's northern fishermen switch to China-backed sea cucumber boom
However the demand for this delicacy has resulted in even more poaching in the Indo Sri Lankan waters, with authorities in Sri Lanka and India seizing nearly 65 metric tons of sea cucumbers worth more than 2.8 million US dollars between 2015 and 2020. Over 500 people were arrested in that period in connection with the attempted trafficking.
"At the end of the day, we are protesting not for us but our children. They are the ones who will continue this profession. We don't have anything to eat; our livelihoods have been taken from us; and nobody cares," said Harris.
"All we ask is that these illegal activities are stopped so that fisherfolk around Sri Lanka can continue their work in peace." (Colombo/Feb26/2022)