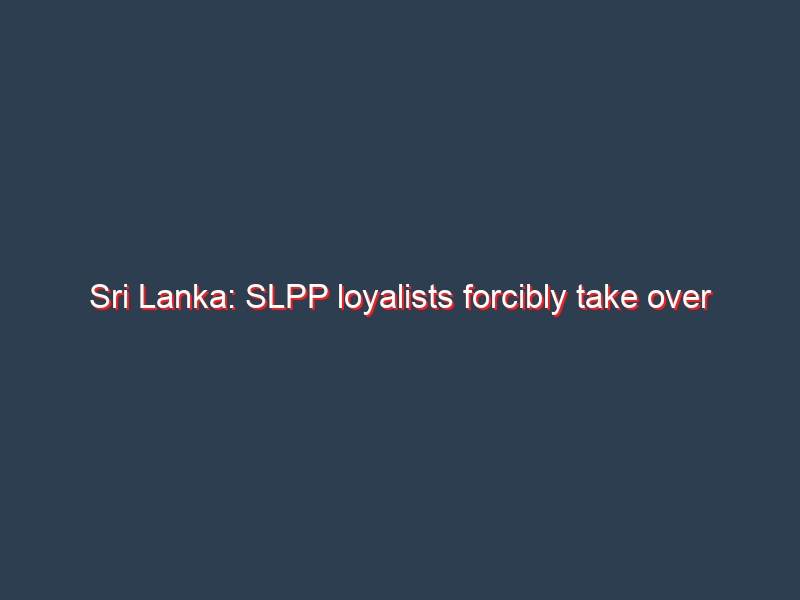 Sri Lanka Podujana Peramuna (SLPP) loyalists have taken control of most state media institutions after the swearing in of Mahinda Rajapaksa as Prime Minister.
Sri Lanka Rupavahini Corporation (SLRC), Independent Television Network (ITN) and the Sri Lanka Broadcasting Corporation (SLBC), were issuing directives while previously appointed staff members in senior positions kept away from work yesterday. SLPP union members moved in swiftly to take control of the institutions soon after President Maithripala Sirisena swore in Mr. Rajapaksa as the new Prime Minister on Friday evening.
A senior Lake House source said a group of SLPP loyalists within Lake House had barged into the layout section of the Daily News on Friday night and forcibly changed the layout of yesterday's edition. The SLPP union members had told Lake House staff that they were acting under orders from the new Prime Minister's office through Kandy District MP and former Media Minister Keheliya Rambukwella.
Yesterday, staff at the Sunday Observer, too, had been pressured by the SLPP faction to repeat a story of Rajapaksa being sworn in, though it had been pointed out it was now "stale news." They had also been warned not to report any stories regarding Ranil Wickremesinghe or UNP Ministers as Cabinet now stood dissolved. Senior journalists at the paper had reportedly protested over these demands from unions.
Meanwhile, at ITN, several journalists were also forced out by fellow staff members affiliated to the SLPP. Subash Jayawardena, ITN's Deputy General Manager (DGM) – News and Current Affairs, told the Sunday Times he received warnings on Friday night that he and certain other employees were about to be attacked. "I was warned to leave, and I took two other staff members who were also at risk with me. As we were leaving in the office vehicle, we were stopped at the gate by Rajapaksa supporters who ordered us out of the vehicle, shouting that our time was done. However, some other ITN staff members intervened and they managed to help us leave the premises safely," he explained. Mr Jayawardena said several other staff members were also forcibly evicted by the union.
At the Sri Lanka Rupavahini Corporation, SLPP-affiliated staff and a group of outsiders accosted several UNP ministers and MPs, including Mangala Samaraweera, Ranjith Maddumabandara and Chathura Senaratne. Mr Maddumbandara claimed they were visiting the state-run channel following Friday evening's political developments when they ran into the group. "They grew very aggressive and there was a heated exchange of words, but we did not intend to get involved in a conflict. So we left the premises,"Mr. Maddumabandara said.
Rupavahini Chairperson Inoka Sathyangani, ITN Chairperson Thilaka Jayasundara, its Chief Executive Officer (CEO) Chandana Thilakarathna and several other senior officials had not been to their institutions since the crisis on Friday, sources said.
Mr Rambukwella, however, claimed the UNP MPs had "invaded" the Rupahavahini Corporation in a bid to plant stories in the news bulletins. This caused agitation among the employees, he alleged. "They claim we intimidated them, but I would classify what they did as intimidation," he said. He also said he explained the situation to Lake House journalists who sought clarification from him over the new political developments.
By Sandun Jayawardana