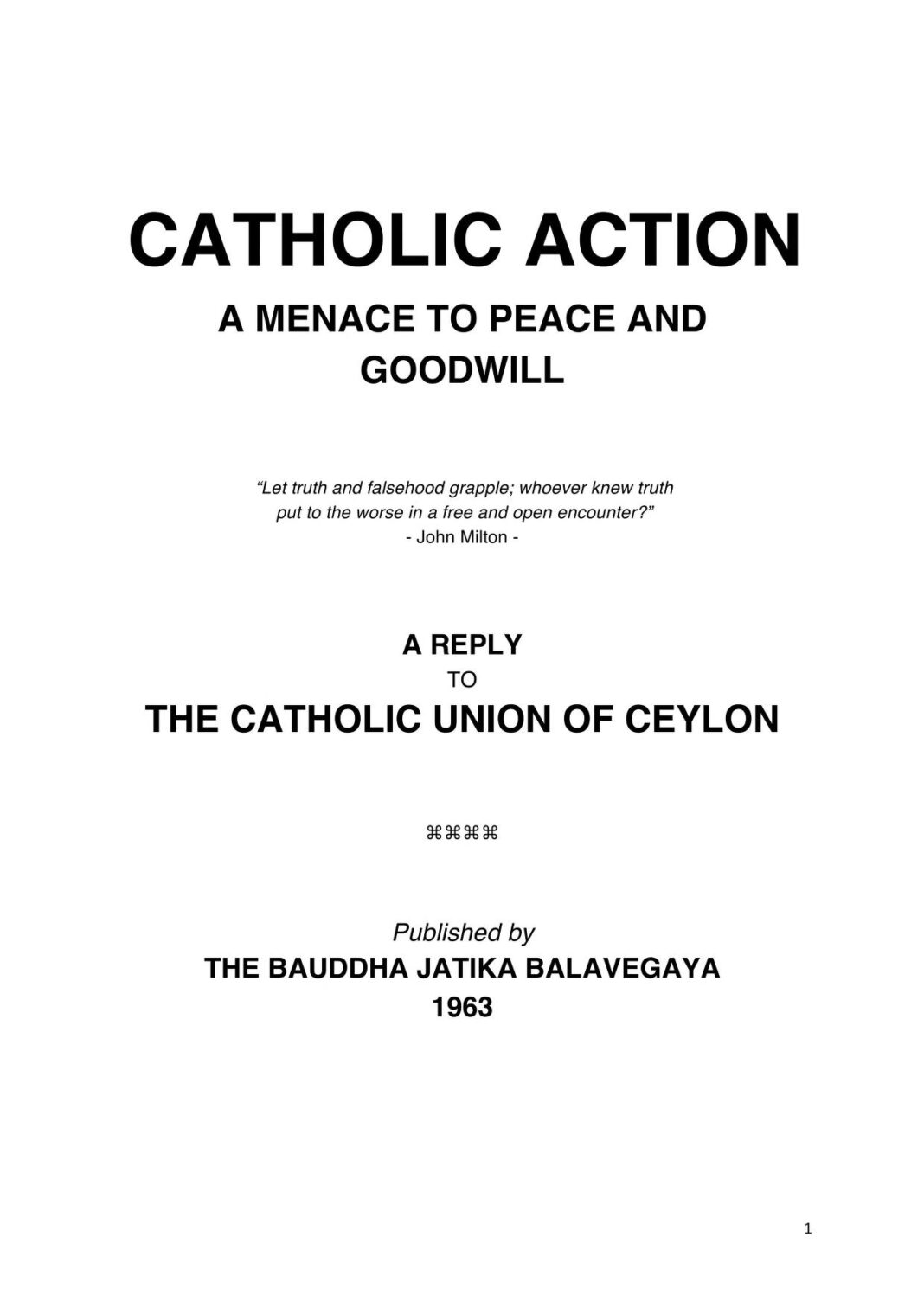 "Let truth and falsehood grapple; whoever knew truth put to the worse in a free and open encounter?"
A REPLY TO
THE CATHOLIC UNION OF CEYLON
Published by
THE BAUDDHA JATIKA BALAVEGAYA
1963
PAGE CONTENTS
THE CHURCH AND POLITICS
THE STATE AND THE CHURCH
PAPAL CLAIMS TO SUPREMACY
DIVINE OR HUMAN?
THE CHURCH AS AN ENGINE OF AGGRESSION AND OPPRESSION
TOLERANCE, ITS THEORY AND PRACTICE
DEMOCRACY AND THE CHURCH
SUBJECTS OF THE POPE FIRST CITIZENS OF THE STATE NEXT
CATHOLIC ACTION, THE MODERN CRUSADE
CATHOLIC ACTION IN CEYLON (PART I)
CATHOLIC ACTION IN CEYLON (PART II)
CONCLUSION
FOREWORD
In presenting this publication to the people of Ceylon, we find it necessary to state in the clearest terms possible that it is an attempt not to raise communal or religious issues, but to warn our countrymen against the menace of Catholic Action to the unity and security of the nation.
The facts and figures set forth in the following pages will show how Catholic Action, wearing the mask of religion, infiltrates silently and steadily into the life and work of the people, and plans to make Ceylon a colony of a foreign power.
We believe that our Catholic brethren, no less than our Hindu, Muslim and Protestant brethren, will appreciate the spirit in which we give this warning. We know that many of our Catholic fellow-countrymen, who are patriotic, are not very happy about the foreign
affiliations of the Catholic Church, and that as a rule they place their loyalty to the Nation above their loyalty to the Church.
Although the Catholic Church opposed free education, Catholics, especially those belonging to the poorer classes among them, who might never have known the inside of a University, have received a University education. At the same time we appreciate the attitude of the Protestants that have welcomed the new trends of national development.
With regard to the Hindus and the Muslims, it must be said that they have suffered from Catholic Action as much as the Buddhists. Their common suffering and their mutual goodwill have brought them closer together than ever before. Our complaint, therefore, is
against Catholic Action and not against Catholics.
A case is established in this book for the Government to conduct an immediate inquiry into the manifold activities of the Catholic Action Movement, to abolish exclusive privileges and to ensure justice and fair play to all citizens alike.
L. H. Mettananda
President, Bauddha Jatika Balavegaya
Colombo, March 1963.