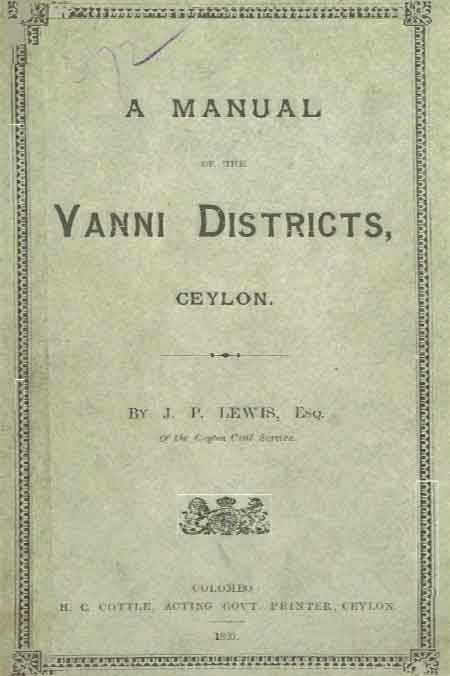 BY J. P. LEWIS, EsQ. Of the Ceylon Civil Servise.
COLOMBO
H. O. COTTLE, ACTING GOVT PRINTER, CEYLON.
1895
PREFACE
A FEW words are necessary by way of preface to this compilation, which may perhaps best be described as a kind of magnified Administration Report confined to no particular ear, but extending over a century. Should it appear to err in point of length or excess of
detail, I would urge on its behalf that it is partly intended to serve as a rough index to the diaries extant in the two Kachcheries up to the year 1892.
I think I may safely say that nothing of interest in the diaries has been omitted from reference, if not from quotation, in the Manual. 'This is not in reality so bold a claim as it may appear to be at first sight, for the contents of official diaries necessarily consist for the most part of matters of only passing importance.
Some allowance must be made for the fact that though the materials for the Manual were collected on the spot, they were put into shape after my departure and at a distance from, the Districts of which they treat.
Nihil est ab omni parte beatum, but whatever its imperfections, I have spared no pains to make the book accurate, and venture to hope that it may be of service to my successors in the administration of the Vanni. For assistance and suggestions I have to thank especially Messrs. FOWLER, WHITE, and SHORT, of the Civil Service, also Dr. TRIMEN and Mr. K. TILLAIAMPALAM, Head Clerk of the Vavuniya Kachcheri and for sixteen years Kachcheri Interpreter at Mullaittivu.
J. P. LEWIS.