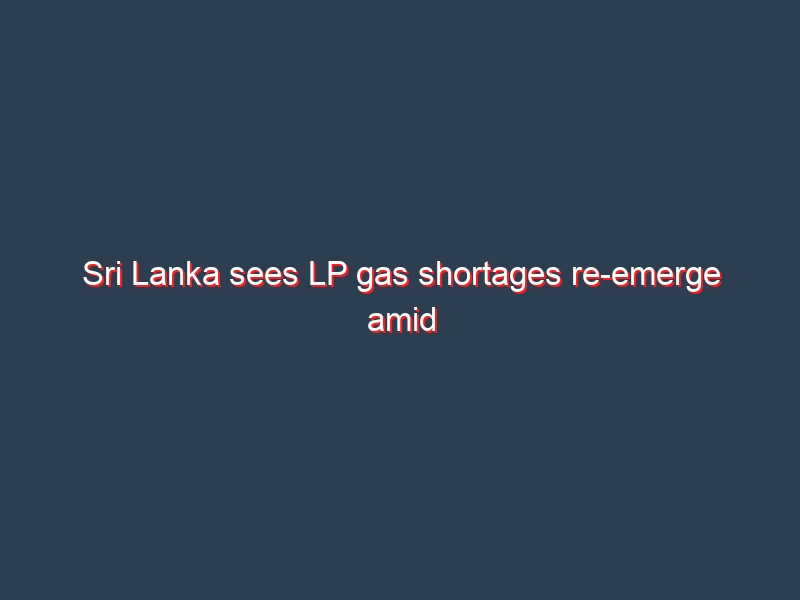 ECONOMYNEXT – Sri Lanka is likely to face cooking gas shortage again after the key suppliers have said local commercial banks are not opening letter of credit (LCs) to facilitate imports amid severe dollar shortage.
The island nation's cooking gas dealers say they have already not receiving the adequate supply now.
The move comes as Sri Lanka's forex shortage has worsened with lack of US dollars even to import essential commodities like gas and fuel amid expensive global commodity prices after the Russian invasion.
Sri Lanka is already facing a severe fuel shortage due to lack of US dollars to import fuel amid queues at pumps across the island and the country is already experiencing over seven hour power cut.
Laugfs Gas, Sri Lanka's only private LP gas supplier in the duopoly market said there is only a little stock left as of Thursday.
"We will see a serious shortage. We have very little stock only sufficient for one or two days in the port," W K H Wegapitya, Laugfs' Chairman, told Economynext.
Laugfs Gas controls around 20 percent of the LP gas market in Sri Lanka while the state owned Litro supplies 80 percent.
Laugfs needs on average 15-30 million US dollars per month to import gas, Wegapitya said.
"We have been supplying around 15,000 tons to the market per month but with this forex issue we are finding it difficult to continue the supply specially with commercial banks not opening letter of credits for us to import gas," he said.
Laugfs had been able to continue it's supply in the past month with the support commercial banks that opened LCs for the company.
"With today's situation, there will be another shortage of gas by next week," he added.
Laugfs had also been re-exporting gas to Bangladesh, Africa and Maldives, but that also has been halted.
An official at state-run Litro Gas Lanka Ltd said the company is also facing the same situation and local banks are not opening LCs.
The island nation already suffered a LP gas shortage late last year after Litro changed the composition in gas which led to several explosions at household level, a commission report has said.
Supply Slashed  
"Gas is not coming these days. We only get a supply of gas on Tuesday and Friday. All my stocks of gas is over then and there. They are saying the shipment is not there and they don't provide us with heads up," Premachandra, a Litro gas dealer based in Kalutara told Economynext.
Premachandra had ordered 46 big Litro cylinders, 15 medium cylinders and 17 smaller cylinders but he got only 7 big cylinders, 10 medium cylinders and 5 smaller cylinders.
"This is not at sufficient for me. People are aware of the situation I think, and I hope it won't result in panic buying like last time."
Sri Lanka is going through a severe forex shortage resulting extended power cuts due to lack of fuel while other essential products including essential drugs are also facing a shortage in the market.
"I didn't receive (required amount of ) gas today and I think today is the first day of the shortage," a dealer based in Wattala who wants to remain anonymous told Economynext.
"Previously we were getting it smoothly. Now again it has started. I normally order around 45 to 50 cylinders however I only received 15 cylinders today which is a third of my normal supply. "
Customers are complaining that gas dealers in their areas aren't responding and if they do, often to be answered with "no gas".
"Every time we expect a shortage we have to call Litro, roughly around 3 to 4 times just for their response to be 'no gas', a dealer based in Colombo's commercial heart of Pettah said.
"People are starting to panic buy and lots of the news is going around by word of mouth, I don't know when the next supply will come but I hope it comes soon."
LP gas price to rise?
Since the onset of the Russian invasion on Ukraine, global commodity prices have been on the rise with crude
oil hitting 116 dollars per barrel on Thursday, the highest price seen in eight years according to foreign media.
"In parallel to that (crude oil price) in March, the price of one metric tons of gas in the international market increased by 135 USD," Wegapitya explained.
"This is the first time we saw such increase. Along with the shipping cost increase the amount of gas we import has also reduced."
He said normally Laugfs issues about 40,000 gas cylinders per day but by now they are unable to issue even 2,000 cylinders.
"If we do net get the LCs we need for the next few days, there will be a gas shortage in the next couple of months."
Sri Lanka's dollars shortage is induced by central bank's controlled exchange rate 200 rupees against the USD, analysts say,  where as the dollar is sold at over 260 rupees in grey market. (Colombo/March03/2022)