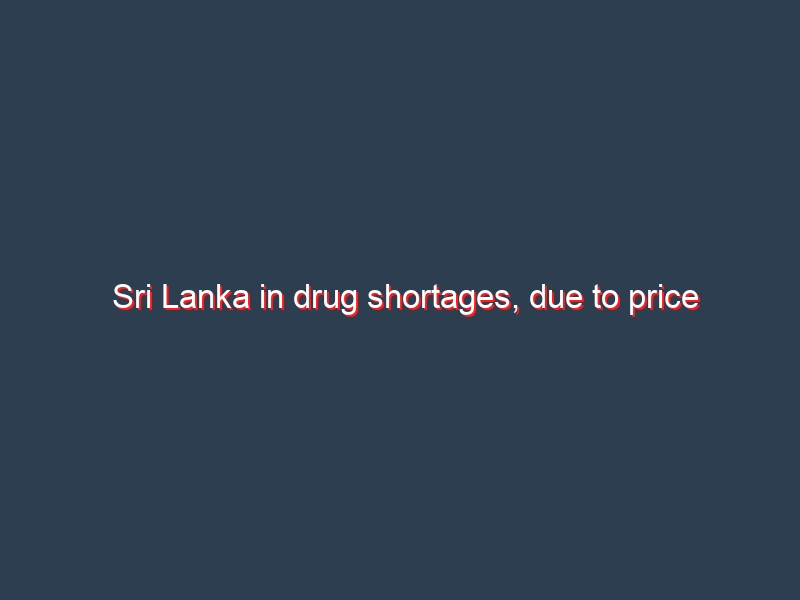 ECONOMYNEXT – Sri Lanka's price controls by the regulator compounded by a worsening forex crisis is creating shortages of drugs as importers found it difficult to open letters of credit and foreign principals declined to supply at controlled prices, industry officials said.
The Sri Lanka Chamber of Pharmaceuticals Industry says reluctance of banks to open letters of credit was making it difficult to import drugs, importers were exposed to currency risk from suppliers' credit and of late fuel is being prioritized over drugs.
The National Medical Regulatory Authority was delaying registration and re-registration of drugs further contributing to supply disruptions in addition to price controls.
Price Controls
About 5 percent of drugs regulated with the National Medical Regulatory Authority were in short supply including paracetamol.
"There are around 7300 medicines registered with National Medicines Regulatory Authority and according to the retailers currently there is a shortage about 5 percent of those medicines in the market," Sanjiva Wijesekera President of the Sri Lanka Chamber of Pharmaceuticals Industry said.
"The last increase of price was in August 2021 when the spot (US dollar) was at 194 rupees, but now it has increased up to 203 rupees."
"So the suppliers are not willing to supply medicines for those prices."
"Paracetamol, drugs for diabetes, high blood pressure, cholesterol are some of the medicines that are short in the market currently."
NMRA was delaying in granting the re-registration of products which have been available in the market for a considerable period as well as new product registration, which is further delaying imports.
There has been criticism that the NMRA was creating monopolies in some drugs.
The NMRA was set up by the ousted Yahapalana administration to control prices and put more regulatory barriers between medicines and the people instead of restraining the central bank's ability to print money to keep prices down.
Price control agency was set up according to a plan proposed by Senaka Bibile, a Marxist.
At the time analysts warned that it was a Marxist 'social democrats' style Weimar Republic move for which people will pay a heavy price.
Related
Sri Lanka's pharma control Neros fiddling while Colombo burns with falling rupee
The SLCPI said ceiling prices should be raised because the exchange rate has depreciated, fuel costs are up, and interest costs were also rising.
The current administration in a progressive move removed price controls on most consumer goods, as shortages and black markets appeared but so far no action had been taken to remove price controls on drugs as the central bank printed money.
The regulator has also been given court orders to revisit the price controls but no action has been taken so far.
"We cannot change prices from consignment to consignment. Not having a price mechanism is one of the biggest issues we have," Wijesekara said.
"We are not saying to get rid of the control price. We are asking to give us at least a temporary solution for this until a proper price mechanism take place."
Forex shortages
Adrian Basnayake, the Past President and Council member of the SLCPI said, the commercial banks are refusing to issue letters of credit for the importers and asks the importers to buy dollar from exporters through at much higher price than the 203.
"If we take the lack of Paracetamol, it is not because the drug is not available. But according to the price we have, suppliers are not ready to give us," Basnayake said. "It is similar for most medicines."
Sri Lanka is facing a severe forex shortage due to money printed to enforce low interests rates after giving reserves for imports.
The country has a large budget deficit with salary hikes given to state workers in January needing higher interest rates. When money is printed to keep rates down, excess imports are triggered, creating forex shortages.
Commercial banks are reluctant to open letters of credit with no assurance that they can settle them on the stipulated date.
"When we go to banks to get dollar, there are no dollars to get," Basnayake explained. "They say, if you can, go to exporters and get some dollars from them. When we contact them they agree to get give dollar not at 203 rupees but 245 rupees."
Un-hedged Forex Risk
Importers have also brought drugs on supplier credit, and were exposed to forex risk if the rupee depreciated further.
"Let's say we get to open a LC for 203 rupees," Basnayake said. Usually we settle prices after around 3 months after importing the medicine. But if the Dollar rate has increased to 245 rupees within that three months, who has to bear that cost."
"We do not have the capacity to cover that cost. Due to this, importer stop importing and that is another reason for the lack of medicine in the market. Considering all this, we are concerned about the future situation that can affect patients."
Government Hospitals
SLCPI said the LC issue is affecting the medicine imports on government tenders as well.
"There is a delay in LC opening in government tenders as well," M Prathabanthe, Senior Vice President of SLCPI said.
"Because of that there will be medicine shortage in government hospitals as well."
Meanwhile people were stocking up on drugs adding to shortages.
"In the last 2-3 months our sales increased greatly," Basnayake said. "We could have been happy about that but when our stocks are getting depleted and there are issues in importing, we realize the problem."
Azam Jaward the Vice President, SLCPI said the industry has been de-prioritized to a certain extent due to the current power crisis where fuel is given priority.
"What coming is not good," Jaward said. "Delays in NMRA, price control is causing a problem along with the dollar crisis."
"Until last month we did not have any major issues. But now the banks have been advised to prioritize issuing LCs to import fuel. If this trend continues, even for the lifesaving drugs we will have a serious issue.
"We are at the moment have the supply for another 2-6 weeks, some medicines for another 3 months, but we are concern about the possible situations that can arise in the future in this country due to drug shortage."
Latin America Soft-peg
Sri Lanka has a Latin America style central bank set up by a US money doctor, and inflation and currency depreciation has worsened since rule based policy was in favour of 'flexible' inflation targeting involving 'data driven' policy to target an output gap, which worsened to Modern Monetary Theory in 2020.
Now reserves are being given for imports and they are sterilized with new money.
"It is not possible to import goods freely when a soft-peg collapses because there will be forex shortages due to sterilized intervention," EN Economic Columnist warned as far back as 2018 when highly discretionary policy was started.
"Import controls may also come.
As the cost of fuel or electricity goes up if prices are not raised, more money will be printed to subsidize energy, pushing the currency down.
"In Latin America, energy price controls have led to money printing and rationing. There can be power cuts and fuel shortages.
"In Sri Lanka because of price controls of the National Medicines Regulatory Authority medicines, drugs can go off the shelves." (Colombo/Mar02/2022)