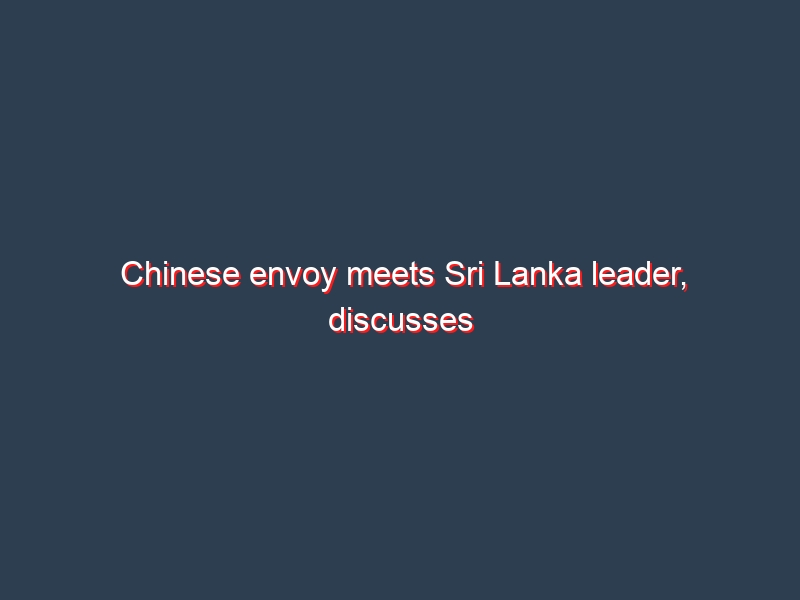 ECONOMYNEXT – Chinese Ambassador to Sri Lanka Qi Zhenhong met Sri Lankan President Gotabaya Rajapaksa on Monday (28) and discussed bilateral and diplomatic relations including Belt and Road projects, the Chinese embassy in Colombo said.
The meeting comes weeks after India pledged to assist Sri Lanka with much needed financial assistance including a 400 million US dollar swap arrangement, a 500 million US dollar credit line to purchase fuel with, and a 1 billion US dollar credit line to buy essential foods and medicines.
Both Sri Lanka and China are celebrating the 65th anniversary of diplomatic relations as well as the 70th anniversary of the historic rubber-rice pact signed between the two countries.
"Zhenhong emphasised that the biggest inspiration from the 65th anniversary of the establishment of diplomatic relations between China and Sri Lanka is that no matter how the domestic and international situation changes in Sri Lanka in the past, present or future, China will always be Sri Lanka's most trustworthy good friend, true friend and old friend (sp)," the Chinese embassy said in a statement.
"The current world situation is changing rapidly, and the spirit of the rubber-rice pact of 'independence, self-reliance, unity and mutual support' is even more significant today, 70 years later. At the new historical starting point, China is willing to join hands with Sri Lanka to make unremitting efforts to improve the quality and upgrade of bilateral relations."
According to the statement, the two sides also conducted friendly and in-depth exchanges on topics such as economic, trade and financial cooperation between the two countries, major "Belt and Road" projects, and regional cooperation.
Sri Lanka has been in the middle of a geopolitical tussle between China, the US and India, analysts say.
China has invested in and loaned billions of dollars for Sri Lanka's post-war infrastructure and also owns the country's largest port in the southern district of Hambantota and reclaimed land worth 1.5 billion US dollars next to the island nation's main port in Colombo.
The Chinese embassy statement further said President Rajapaksa discussed Sri Lanka's current economic and financial situation and thanked China for its long-term and firm support for Sri Lanka's national development. The president said he looked forward to further strengthening cooperation with China to bring more benefits to the two nations.
The president's office confirmed the meeting with the Chinese Ambassador but did not reveal any details.
Sri Lanka is facing a financial and dollar crisis with the country running out dollars to buy fuel, essential foods, and gas.
Lack of fuel imports due to the dollar shortage has already resulted in extended power cuts and long queues for fuel.  (Colombo/Mar02/2022)