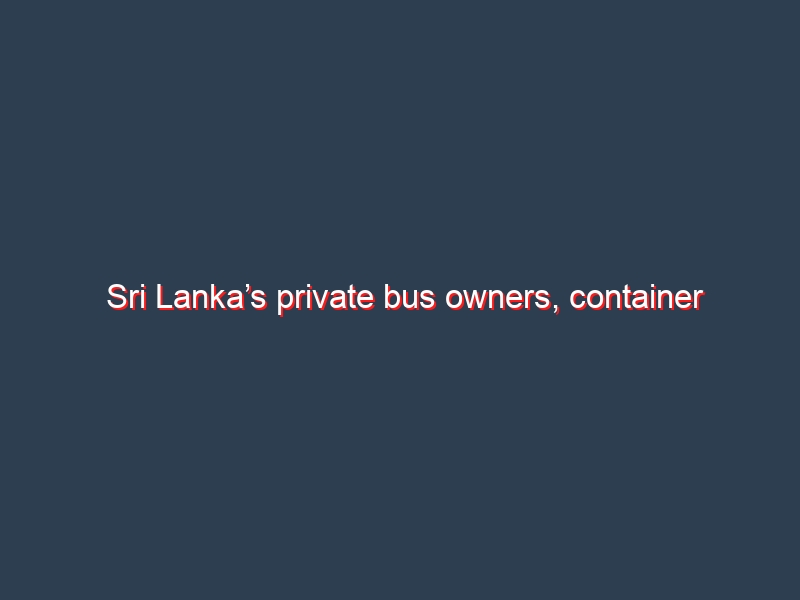 ECONOMYNEXT – Both private bus operators and container transport service providers in Sri Lanka have asked that their respective sector be prioritised when releasing diesel to the market as the island nation battles fuel shortages amid a gruelling forex crisis.
Chairman of the All Ceylon Private Bus Owners Association Anjana Priyanjith told reporters on Tuesday (23) that private bus operators have enough diesel left for two more days of service and no more.
"It was very difficult to find diesel for private buses, both yesterday and today. A bus can store about 160 to 200 litres of diesel. With that amount, we can only operate for another two days.
"We request that private buses are prioritised when releasing diesel," said Priyanjith.
United Lanka Container Vehicle Owners Association President Sanath Manjula said the country's imports and exports will be severely impacted by the fuel shortages.
"There is great defaulting in acquiring fuel needed for vehicles in the import-export sectors," said Manjula, noting that vehicle owners affiliated with the association somehow managed to queue up for hours at filing stations and fill up their tanks with some diesel for the time being.
"There is some super diesel available, but it's difficult for us to depend entirely on that as there is a sizeable difference in cost," he said.
Manula told reporters on Tuesday that his association has held discussions with the Customs Director General and the Chairman of the Sri Lanka Ports Authority about the possibility of recognising container vehicle transportation as an essential service and prioritising them.
The association has recommended that filling stations dedicated for the navy and air force be used for this purpose.
Earlier on Tuesday, Central Bank Governor Ajith Nivard Cabraal said Sri Lanka had on Monday (22) released foreign exchange for a diesel ship while a decision on price increases was still pending.
A diesel ship which had arrived in the country over the weekend was awaiting funds to clear it letter of credit to unload fuel.
Sri Lanka now has to pay for fuel upfront before deliveries are made.
There has been panic buying in various locations and public transport was also disrupted as fuel deliveries were curtained by the state-run Ceylon Petroleum Corporation.
Sri Lanka's economy has recovered and imports are picking up faster than inflows, due to liquidity being injected to maintain low interest rates, leading to forex shortages and higher demand for fuel.
From October the central bank started giving 'reserves for imports' which leads to automatic printing money of an equal amount to stop the policy rate from going up (sterilized forex sale), leading more imports and credit.
Over 900 million US dollars of import for reserve sales have been sterilized (offset newly with printed money) since then.
Related: Sri Lanka releases forex for diesel ship: CB Governor
(Colombo/Feb23/2022)