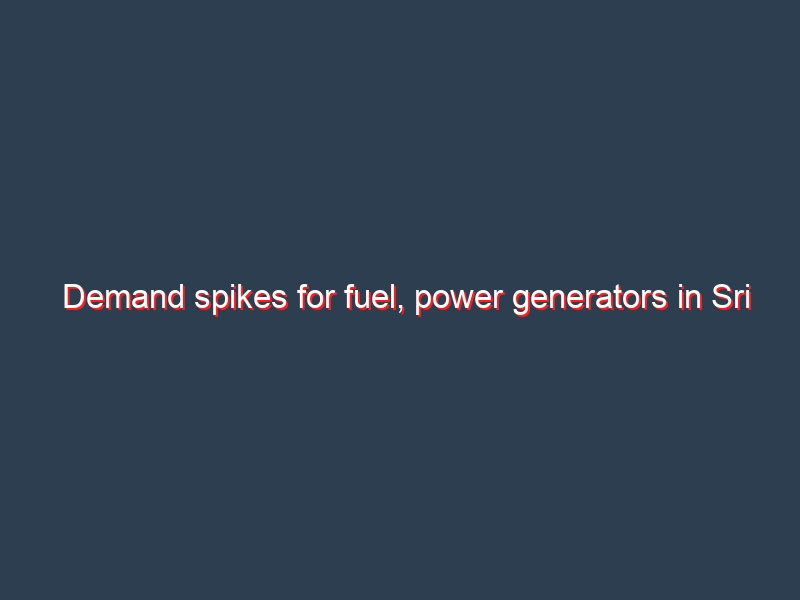 ECONOMYNEXT – Sri Lanka is seeing a surge in demand for fuel and power generators since the government announced scheduled power outages from the third week of February as the island nation struggles to ensure an interrupted fuel supply while finding US dollars for imports.
Sri Lanka is facing one of its worst forex and debt cresses in its history as the country's foreign exchange reserves dwindled to 2.36 billion US dollars in end January, just enough to finance imports for five weeks. The remaining reserves also included swaps from China, India, Bangladesh, and the Asian Clearing Union (ACU).
The state-run utility provider, the Ceylon Electricity Board (CEB), has announceddaily one hour and 45-minute power cuts starting February 18. The power cut duration has now been increased up to three hours in some areas.
Since the announcement, generator suppliers and fuel stations have seen a sudden rise in demand for their products amid rumours that Sri Lanka is running out of US dollars to import fuel.
No dollars, no fuel
Government sources said the Energy Ministry is struggling to find dollars to clear two shipments of diesel which have arrived at the Colombo port.
Energy Minister Udaya Gammapnpila last week said there is an imminent risk of the country facing a fuel shortage before the first week of April.
The state-owned fuel retailer Ceylon Petroleum Corporation (CPC) has been looking for 60 million dollars to clear a petroleum shipment and another diesel shipment on Friday.
A government official said the CPC was able to clear the petrol shipment, but it has yet to clear the diesel consignment. An extra diesel shipment also has arrived at the port, the official said.
As a result, fuel stations in the country have seen a sudden increase in demand for all types of fuel.
"We do not know what the exact reason for the sudden rise in demand. But there are rumours of price increase,  smaller fuel stations not having enough fuel, and fuel needed to run generators," a Colombo based fuel station official told EconomyNext.
Another fuel station manager said: "The lack of fuel in small fuel stations as well as lack of some fuels is the reason for more people to come."
Many fuel station owners say the stocks of 92 Octane and auto diesel have depleted more than other types of fuel. They say most consumers opt for expensive fuels when 92 Octane or auto diesel, which are among the cheapest, are not available.
Generator demand up 
Meanwhile, power generator sellers are unable to meet the sudden rise in demand amid the power cuts.
"We already sold our stocks. There are more enquiries, but we are unable to supply the increasing demand because of the import restrictions that have been imposed by the government," a spokesman for Circom Power Technologies (PVT) LTD told EconomyNext.
"On the other hand, banks don't issue Letters of Credit (LCs) due to the forex shortage in the country," he said.
The Circom spokesman said the company's maintenance division has seen a corresponding spike in repair and maintenance requests from their clients because people were getting ready to face the worst in the event of a full-blown power crisis.
"We are in a difficult situation because it is restricted to import the spare parts we need," the official said.
Daya Upasena, the owner of Power Lanka Pvt Ltd, told EconomyNext that their clients are coming in, enquiring about generators and prepared to pay upfront for new machines as soon as they turn up.
"We sold out the stock we had. Now we are getting some dollars from our partners that we plan to invest in about 10 machines," Upasena said.
"But we have pre orders for about 50 machines at the moment," he said adding that the firm is looking for new avenues such as renting generators for clients, who are unable to purchase a machine permanently.
The current average price of a three kilovolt-ampere power generators is around 70,000 rupees.
Suppliers have urged the government to relax the ongoing import restrictions so that the industry can survive while being a support service for other industries in addressing the power shortage. However, though the central bank has said there are no such restrictions, suppliers are unable to get dollars from local banks as there is a severe dollar shortage.  (Colombo/Feb 22/2022)