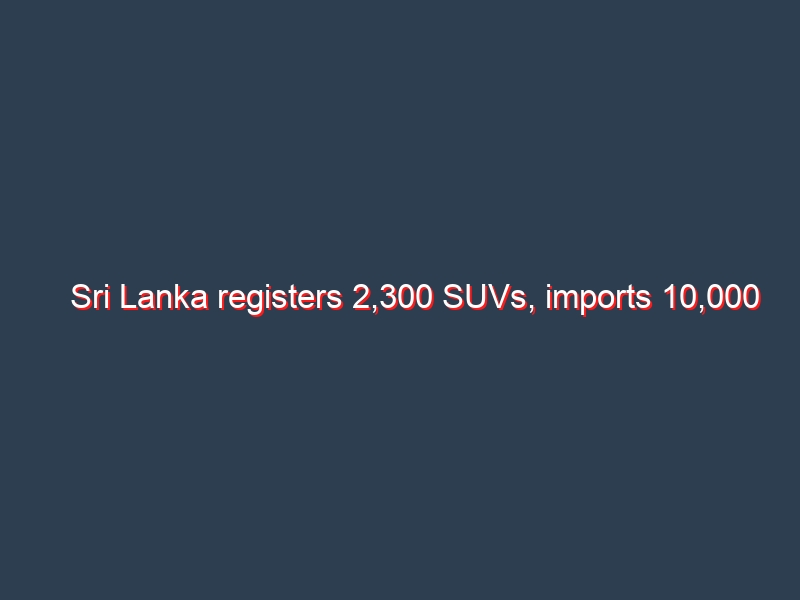 ECONOMYNEXT – Sri Lanka has registered 2,300 SUVs and imported 10,000 tractors in 2021, data show as import controls prevented highly taxed imports like cars and three wheelers from coming into the country.
Sri Lanka banned imports of most automobiles including three wheelers and motorcycles which give large revenues to the state, as money printing ratcheted up from February 2021 (monetary stimulus) creating forex shortages.
Meanwhile imports of low taxed items, such machinery and construction material, was encouraged including through artificially low interest rates, creating vicious cycled of revenue losses and more money printing, which in turn creates more forex shortages.
Sri Lanka had registered 2,384 SUVs in 2021 and 176 in January 2022, Sri Lanka's vehicle registry data analyzed by JB Securities, a Colombo-based equities brokerage show.
In January 176 SUVs were registered.
"SUVcrossovers recorded 176 units in Jan up from 100 units the previous month but down from 199 units 12 months ago," the research house said in a note to clients.
"Mahindra accounted for 118 units through its KUV 100 model – a small cross over vehicle assembled locally by Ideal Motors. The records also show registration of 28 Toyota Land Cruiser jeeps – they were a gift from the government of Japan to the Sri Lanka Police."
Knocked down vehicles components pay sharply lower rates of tax, reducing tax revenues to the state.
Sri Lanka had also registered 8,067 large tractors and 2,116 small tractors in 2021.
Regardless of the administration in power Sri Lanka's policy makers and economists, steeped in Mercantilist ideology control trade after printing money to create forex shortages.
Then a series of cascading policy errors – also based on Mercantilist dogma – including banning highly taxed items worsen the economic crisis, drives the country into currency collapses and the International Monetary Fund.
Meanwhile Sri Lanka's central bank Governor Nivard Cabraal has suggested that people who earn foreign exchange overseas be allowed to import cars and also pay taxes in US dollars to the state.
As part of legal tender laws to encourage domestic money, countries usually make citizens pay taxes in domestic money. However when money is printed making outflows exceed inflows, governments find it difficult to convert the rupees into dollars to pay overseas obligations.
Taking taxes directly into the state coffers in US dollars drops the intermediate stage.
In 2021, Sri Lanka imported 1.66 billion US dollars of food and beverages, another 418 million US dollars of wheat and maize.
In 2021 machinery and equipment imports topped 2.8 billion US dollars and building materials 1.2 billion US dollars. (Colombo/Feb19/2022)