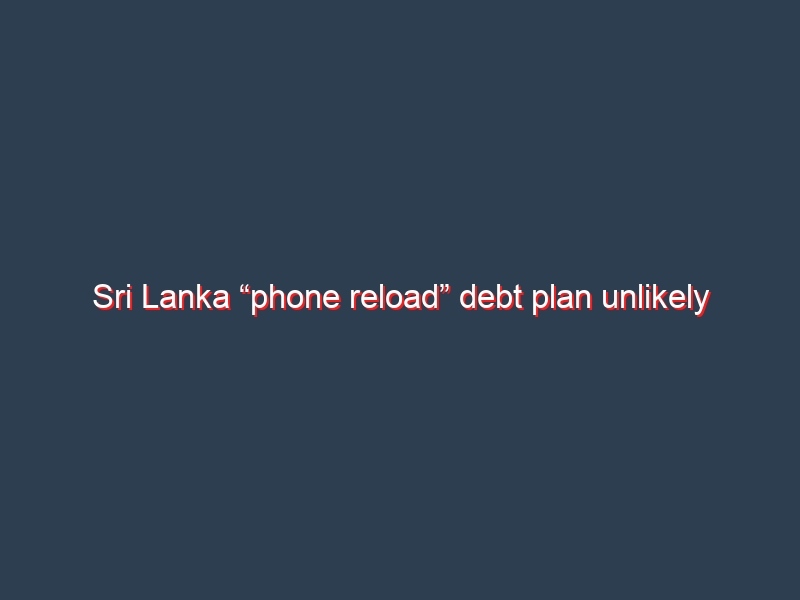 ECONOMYNEXT – Sri Lanka's current debt repayment strategy which is similar to reloading a pre-paid mobile phone is unlikely to get the country out of a looming economic crisis as money printing and dollar shortages take a toll on the island nation, opposition legislator Patali Champika Ranawaka said.
Sri Lanka has been downgraded to 'CC' by Fitch indicating heightened risk of sovereign default while foreign reserves have been depleted while being exchanged for newly minted money which is turning up as imports.
Sri Lanka has been borrowing from foreign governments and central banks has also borrowed through swaps to repay part of the maturing debt, as money printing created forex shortages, instead of running deflationary policy to turn current account inflows to financial account outflows.
Reload
"The government is insensitive to the financial crisis. It is managing debts as like reloading prepaid mobile phones," Ranawaka told a meeting with Foreign Correspondents' Association (FCA) in Colombo.
The last administration also printed money, created forex shortages and borrowed under a so-called Actively Liability Management Law, ratcheting up foreign debt, instead of running deflationary policy, analysts have shown.
In January 2021, India came up with a 400 million US dollar swap, a deferment of cross border payments due under regional clearing arrangement, a 500 million dollar petroleum credit line and another billion US dollar food and medicine credit is planned.
"Hadn't India bailed out Sri Lanka in January, we would have faced bankruptcy by now," said Ranawaka, one of the key ministers in the last government who oversaw the completion of Chinese Port City under his ministry purview.
Inflationary Policy
Sri Lanka has been printing money to boost growth for several years instead of doing serious reforms to allow private sector activity to take off, engaging output gap targeting until 2019, and full blown fiscal stimulus backed up by money printing from February 2021.
By January 2021 12-month inflation had hit a 14.2 percent.
The new money trying to rush out of the country, has pushed up premium in the kern market and Undiyal/Hawala settlement system, diverting money away from the formal banking system.
Relatives of those who receive remittances via informal methods claim they get 250 rupees for each US dollar, nearly 20 percent higher than the central bank's rate of 210 rupees, which also includes a 10-rupee incentive of which at least 8 rupees are printed money.
Delays in getting dollars to match the excess rupees being produced had led to shortages of cooking gas, milk powder, sugar, car spare parts as well as inputs for industries.
The central bank has already banned imports to preserve dollars which has led to shortage of imported milk powder, wheat flour, and many other food items.
"The government is repaying the loans at the expense of the people's needs. It has deprived the people of having milk powder and fuel," Ranawaka claimed.
However the central bank has given 967 million US dollars for imports since October 2021 when a 200 to the US dollar peg was strict was strictly implemented, data show.
Unless money is printed, the central bank does not give any reserves for imports, but instead collects reserves. Large volumes of reserves were given last in 2018, when money was printed to target an output gap.
Money Printing Tax
Ranawaka questioned the current administration's spending priorities, when revenues were down after tax cuts.
"They are expanding the express highway network," Ranawaka said. "But they are doing that when there is a financial crisis. This is not a time to spend money on infrastructure. This is a time to look into the people's essential needs."
Despite the country's looming financial crisis, Finance Minister Basil Rajapaksa announced a relief package for an already bloated public sector employees as well as pensioners and paddy farmers who were hit by a fertilizer ban.
"When the finance minister is increasing expenditure without raising revenue, he is not only digging his own grave, but the graves for all of us," Ranawaka said.
"We need to increase revenue, but not by taxing the people more. People are already taxed by both commodity scarcity and by the way of money printing."
"The money printing is also a way of imposing more tax on the public. High expenditures should be curtained. You can't expand the highways at this juncture. First of all, there should be food for people's survival." (Colombo/Feb19/2022)