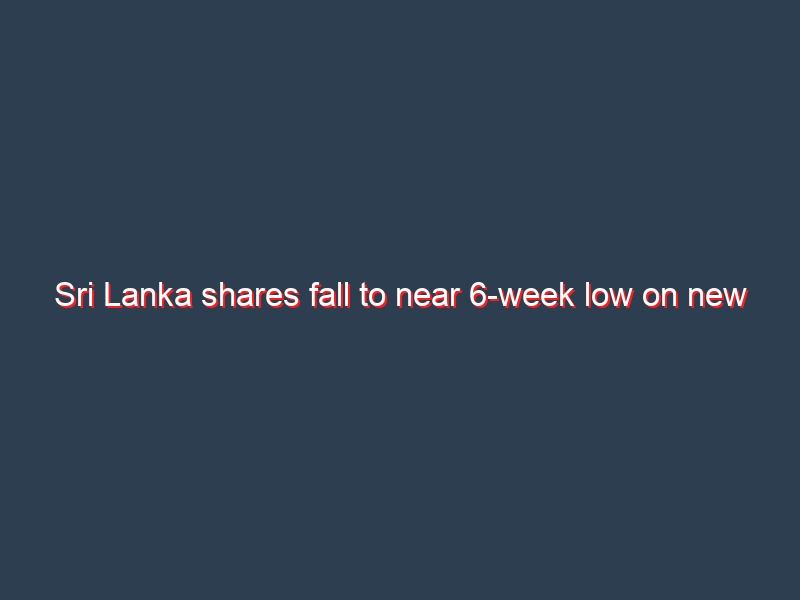 ECONOMYNEXT – Sri Lanka's stock market slipped on Tuesday (08) to its lowest in 2022 on a government proposal to impose a 25 percent surcharge on groups, companies and partnerships amid concerns over a looming economic crisis, brokers said.
Sri Lanka will charge a 25 percent windfall tax in the style of a 'super gains tax' started by the last administration on groups of companies, companies, partnerships and individuals earning over 2.0 billion rupees, according to a draft law gazetted.
The main All Share Price Index (ASPI) fell 1.97 percent or 249.22 points to close at 12,382.69 points, its lowest since December 31.
"The market, in general, is going through a correction at the moment. However, today the announcement of the 25 percent surcharge came into play," a top market analyst said.
"Even though this was priced in before, the surcharge applicable for the group came as a surprise to the investors. This has got people thinking about corporate profits and so on."
Large caps like Expolanka and LOLC have dragged the index down in the past few days.
"Even before the earnings came, the share prices shot up with the anticipation of good earnings so now share prices are adjusting down. Fundamentally nothing has changed. The big thing everyone was expecting from Expo was the earnings so now that it is out, investors have nothing new to expect," the analyst added.
"Now the question investors have in mind is how sustainable are these earnings going to be because of the forex crisis most companies are going through."
S&P SL20 of the more liquid index fell 2.61 percent or 111.52 points to 4,165.60.
There are also predictions of the central bank allowing the market interest rates to rise to defend the currency and curb inflation.
Foreign investors, who are highly worried about possible sharp depreciation or devaluation in the currency, bucked the trend and bought a net of 59.4 million rupees. The foreign sales so far this year has been 3.4 billion rupees. In 2021, the Sri Lanka stock market suffered a net foreign outflow of 50 billion rupees.
Analysts had predicted that the economic concerns would drag the market from time to time until the government finds a sustainable solution for the country's looming debt crisis.
The island nation's foreign reserves fell 25 percent to 2.36 billion US dollars by end January, the central bank's latest data showed. That reserves include a 1.5 billion US dollar swap from China and 400 million US dollar swap from India.
The island nation repaid a 500 million US dollar loan on January 18 to avoid a sovereign debt default, but persisting forex shortage has weighed on the country's oil imports and led to power cuts. The government is struggling to avoid continuous power cuts amid announced and unannounced power cuts across the country.
The day's turnover was 5.4 billion rupees, less than this year's daily average of 7.7 billion rupees. And a two-week low.
Analysts said investors are worried about possible currency depreciation, the government's ability to avert a sovereign debt default, and fuel shortages hitting factory manufacturing and thus hitting future earnings.
Expolanka, LOLC Holdings and Royal Ceramics Lanka dragged the index down on Tuesday.
Expolanka, the market heavyweight which has export and freight businesses, lost 5.36 percent to close at 317.75 rupees. The firm reported a staggering four-fold earning of 23 billion rupees in the December 2021 quarter compared to a year earlier, pushed by higher freight rates and recovery of sales to North American and European markets.
LOLC Holdings slipped 3.71 percent to 1,109.00 rupees a share, while Royal Ceramics fell 5.92 percent to 68.30 rupees a share.(Colombo/Feb08/2022)