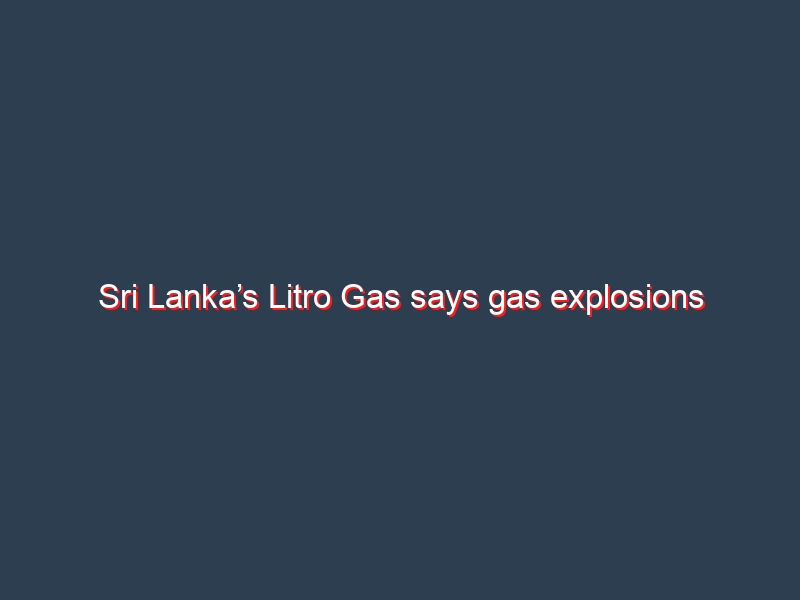 ECONOMYNEXT – Sri Lanka's state-run Litro Gas Lanka Ltd's own ongoing investigations into a series of suspected explosions linked to cooking gas have revealed that substandard regulators, clip-on valves and tubes had caused the explosions, a company official said.
The latest explosion was reported in Kandegedara, Nikaweratiya, taking total explosions so far to six.
Litro Gas supplies 80 percent of the liquid petroleum gas (LPG) cylinder market in Sri Lanka.
"From our side, we are ensuring that our cylinders are safety-assured and from the consumers' side, they have to be cautious about the appliances," Litro Gas Lanka Ltd Director, Health Safety & Environment, Jayantha Basnayake said.
"We are doing our own investigations and we have completed a report on the cases related to Litro. Our final root cause observation is that the appliances were the reason for these incidents."
He said only about two incidents were related to Litro.
Litro has an incident handling unit that investigates reports or complaints made by customers.
This unit also works with relevant authorities such as police and government analysts, said Basnayake.
"The cases linked Litro gas cylinders were thoroughly investigated, and the reason was other appliances," he reiterated.
Though he ruled our foul play, Basnayake said the nature of the consecutive gas explosions seemed a "bit strange". Litro hears of five to 10 incidents maximum per year mainly due to human negligence.
Customers who find leaks are advised to immediately allow ventilation and remove the cylinder's regulator and put the safety clip back on the valve, after which the cylinder is to be taken outside.
Basnayake also advised not to use any electrical equipment including mobile phones or even turn on a light swift in the area when there is a leak.
He said the high-standard regulators will always have a safety feature that blocks these leaks.
However, leaks can be identified from its odour or a hissing sound.
He also said that regulators and tubes must be changed regularly: two years for tubes and five years for regulators.
Amid all this, a report of gas explosion casualty has also emerged.
The explosion had taken place on November 13 in a house in Welikanda in Polonnaruwa injuring a 19-year old married girl.
Media reports said the girl passed away on November 25.  However, officials of both Litro and competitor Laugfs Gas said they were unaware of the incident taking place at all, as every incident that took place was immediately reported to the respective company's officials. (Colombo/Nov26/2021)